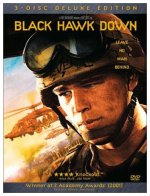 When U.S. Rangers and an elite Delta Force team attempt to kidnap two underlings of a Somali warlord, their Black Hawk helicopters are shot down, and the Americans suffer heavy casualties, facing intense fighting from the militia on the ground. Director Ridley Scott (Gladiator) captures the brutal, incessant battle scenes with powerful and intimidating framework and pace in this military drama based on a true story.
Action, Adventure, Drama, War

11










This is a classic, realistic war movie based on real events. Parts of it are funny, parts are sad, but mostly entertaining.
27










A great gritty and realistic war film. Provoking, more like a documentary than an action movie. Definitely compelling, but not fast paced