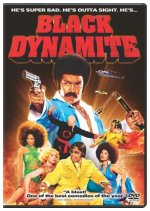 Black Dynamite (Michael Jai White) is the only one strong enough and brave enough to take on the baddies who murdered his brother. What's the former CIA agent to do? Expose a conspiracy that leads straight to the White House. Providing plenty of hilarity and sexy, slick action, Scott Sanders directs this homage to classic 1970s blaxploitation flicks. Salli Richardson-Whitfield and Arsenio Hall also star.
Action, Adventure, Comedy, Martial Arts

10










Hilarious. Not just your everyday blacksploitation parody.