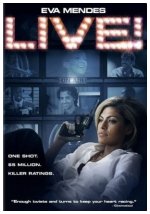 Oscar-winning documentarian Bill Guttentag tries his hand at fiction with this provocative Tribeca Film Festival selection, a satire of ambition, excess and the draw of reality television. Under pressure to come up with a hit, a power-hungry television exec (Eva Mendes) pitches a deadly game of Russian roulette, where contestants compete for the chance to point a loaded gun at their heads and pull the trigger. And the best part? Well, it's live.
Drama, Indie, Thriller
27










Passable acting with an interesting moral premise. Unfortunately the ending didn't live up to full potential, skipping a few of the possible interesting moral dilemmas. Still, if you like reality television this film will provide some entertainment.