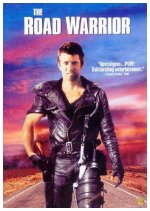 In this sequel to the dystopian action-adventure Mad Max, Mel Gibson returns as the heroic loner who drives the dusty roads of a postapocalyptic Australian Outback in an unending search for gasoline. Arrayed against him and the other scraggly defendants of a fuel-depot encampment are the bizarre warriors commanded by the charismatic Lord Humungus (Kjell Nilsson), a violent leader whose scruples are as barren as the surrounding landscape.

Action, Fantasy, Foreign, Sci-Fi
27










Melodramatic and slightly illogical in parts, but better than the original
Mad Max
. Long self-indulgent action sequences and uncharismatic characters ruin it a little bit. By the end I really didn't care who died.