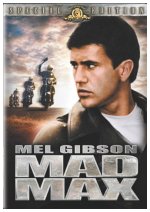 In a postapocalyptic future, jaded motorcycle cop Max Rockatansky (Mel Gibson) is ready to retire. But his world is shattered when a malicious gang murders his family as an act of retaliation, forcing a devastated Max to hit the open road seeking vengeance. As he travels the Australian outback's empty stretches of highway, he tours the bloodstained battlegrounds ruled by marauding bikers who feed on violence.

Action, Classic, Fantasy, Foreign, Sci-Fi
Related Titles
Random Titles
27










Supposedly a post-apocalyptic classic, but just comes across as a common cop vs motorcycle gang story. Looks like it could have been filmed in a run-down rural midwestern US town on a small budget, even for 1979.

11










Cult classic. Great chase sequences, plenty of action.