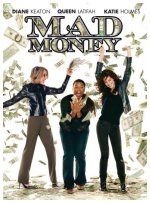 When her husband (Ted Danson) loses his high-paying job, well-off Bridget Cardigan (Diane Keaton) joins the janitorial staff of the Federal Reserve Bank and conspires with two fellow employees (Katie Holmes and Queen Latifah) to pilfer old money that's scheduled to be destroyed. It seems like a simple plan … but, of course, it's never that simple. Director Callie Khouri's comic caper is based on a true story.
Action, Comedy, Heist
27










Reminds me of the days when Katie Holmes was still likeable, which is refreshing. Unfortunately the rest of the movie (aside from Queen Latifah) was rather blase.