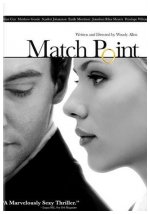 Tennis pro Chris (Jonathan Rhys-Meyers) gets mixed up with the darker side of high society in this suspenseful drama with a Hitchcockian flair from writer-director Woody Allen, who sets the action across the pond from his beloved New York City. Chris is befriended by a wealthy family and falls for femme fatale Nola (Scarlett Johansson). But a clandestine affair involving another woman leaves Chris wondering if murder is the only way out.
Drama, Mystery, Romance, Thriller

15










The first Woody Allen movie I've ever liked! Loved the Hitchcock vibe and thought the whole thing was splendidly done. Johansson's acting was the only weak link. Clever!