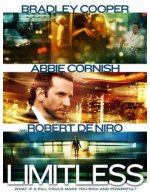 With his writing career tanking and his girlfriend (Abbie Cornish) casting him off, ex-druggie Eddie Morra's (Bradley Cooper) fortunes finally turn around when he's given a mysterious drug that provides astonishing mental powers -- but its deadly side effects threaten his sanity. Adding to Eddie's misery are shadowy businessman Carl Van Loon (Robert De Niro), who wants to exploit his new genius, and the other users willing to kill for his stash.

15










Cooper and cast did a fairly nice job with this film. Absorbing plot line kept me interested--the perfect mix of possibility and impossibility.
27










Cool concept, good cast, decent acting - but the movie was too drawn out, felt a bit lacking on content. The gun fight scene toward the end was unnecessary as well. Excellent ending though.