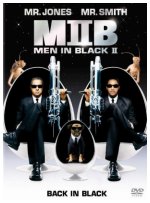 Will Smith and Tommy Lee Jones reprise their roles as Jay and Kay, two highly secretive, highly funded and highly unofficial government agents dealing with all things evil and alien -- including "outing" aliens living among us. Kay now works as a mailman, but when a dangerous alien disguised as an irresistible model (Lara Flynn Boyle) threatens Earth, Jay gets Kay out of retirement to save humanity once again. Barry Sonnenfeld directs.

Action, Comedy, Fantasy, Sci-Fi

16










Awful awful disappointment after the highly fun first movie. Just made every mis-step possible, aping the original but not getting any of its charm.