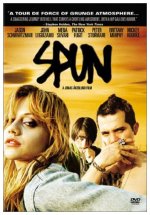 Spun's unique glimpse into the world of methamphetamines has wowed audiences since its debut at the 2002 Toronto International Film Festival, with outstanding performances from Jason Schwartzman, Mena Suvari, John Leguizamo, Brittany Murphy and more. The fast-paced, hard-hitting drama expertly combines the gritty reality of drug addiction with occasional biting humor for an unforgettable look at frantic lives spinning out of control.
Drama, Indie
27










Reminds me a bit of
Fear and Loathing in Las Vegas
, filmed fine but the plot is obviously drug related and not very compelling. That said, Brittany Murphy shines in quirky roles like this. Good ending.