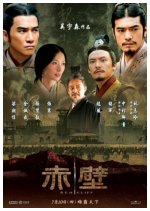 When a warmongering prime minister (Fengyi Zhang) advances his armies against two rival kingdoms, he unwittingly prompts his adversaries (Chen Chang and Yong You) to work together in this martial arts action-adventure. The ensuing conflict culminates in the epic battle of Red Cliff, a struggle by the sea involving more than 1 million soldiers. Director John Woo's big-budget spectacle is based on the novel Romance of the Three Kingdoms.
Action, Adventure, Foreign
27










Excellent film about Chinese warlords by John Woo. Foreign with subtitles.