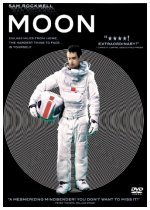 As he nears the end of a lonely three-year stint on the moon base Sarang, astronaut Sam Bell (Sam Rockwell) begins to hear and see strange things. It's not long before Sam suspects that his employer -- the conglomerate LUNAR -- has other plans for him. Featuring Kevin Spacey as the voice of a robot, this sci-fi thriller also stars Matt Berry and Kaya Scodelario. The film was an official selection at the Sundance Film Festival.
Fantasy, Sci-Fi, Thriller

8










Flowed rather slow, but had an interesting plot and never lost my interest. Scenery/sets and models were fantastic with a sort of minimalistic scifi flare.
27










Clever, interesting story line - vaguely sci-fi and definitely not an action movie