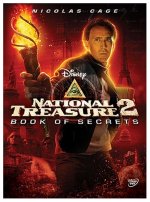 National Treasure: Book of Secrets
2007










Benjamin Franklin Gates (Nicolas Cage) and Dr. Abigail Chase (Diane Kruger) -- who found riches and romance at the end of their first hunt for national treasure -- reteam with their wisecracking partner in crime, Riley Poole (Justin Bartha), for another romp through U.S. history. Now, armed with a stack of long-lost pages from John Wilkes Booth's diary, Ben is obsessed with finding the truth behind President Abraham Lincoln's assassination.

Action, Adventure, Thriller
27










Nicolas Cage has some good lines in this film, but it also has unnecessary action and a villain who is both lazy and morally conflicted. Helen Mirren was an amusing addition to the cast.