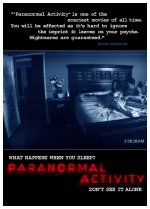 When Katie (Katie Featherston) and Micah (Micah Sloat) fear their San Diego, Calif., home may be haunted by a demonic presence, Micah sets up a video camera to document all the jaw-dropping, hair-raising action over a series of several nights in fall 2006. The paranormal occurrences increase in frequency and significance, leaving Katie more and more distraught -- and determined to put an end to the terror.

Horror, Supernatural, Thriller

11










This movie is terrifying, if you are afraid of ominous tones and loud bang sounds. The scariest part is when the door closes by itself while they're sleeping! I only gave it a two because the female lead had an amazing rack.