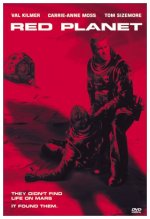 In the year 2050, with the polluted Earth rapidly becoming uninhabitable, scientists are preparing to colonize Mars. But efforts to make the red planet more hospitable to its future human residents have gone awry, leading to a manned rescue mission. The mission's astronauts and scientists (Val Kilmer, Carrie-Anne Moss, Tom Sizemore, Terence Stamp), however, soon encounter a deadly predicament of their own.
Action, Disaster, Fantasy, Sci-Fi, Thriller
27










Not a bad sci-fi flick - more realistic than some, though a bit less exciting in general because of that. CGI was excellent considering when this movie was made.