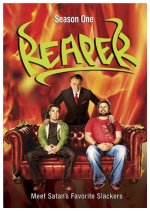 Happy slacker Sam (Bret Harrison) is horrified to learn that before he was born, his parents sold his soul to Satan (Ray Wise), who comes calling now that Sam is 21. Aided by his bumbling buddies, Sock (Tyler Labine) and Ben (Rick Gonzalez), Sam tries to earn his freedom by returning escaped souls to hell. When not battling assorted demons and murderers, Sam pursues an on-again, off-again romance with co-worker Andi (Missy Peregrym).
Comedy, Fantasy, Sci-Fi, TV
27










Quirky, amusing series - though they drag out the angsty girlfriend relationship for too long in the beginning. The cast is pretty good - but Ray Wise is awesome as Satan.