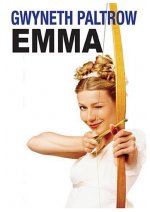 Based on Jane Austen's classic novel about manners and misguided matchmaking, this Academy Award-winning adaptation from director Douglas McGrath takes a richly comic look at the romantic meddling of young Emma Woodhouse (Gwyneth Paltrow). Surrounded by suitors (including Jeremy Northam and Ewan McGregor), Emma spends her time arranging friends' romances, never noticing that her own true love is right beneath her nose.
Book, Comedy, Drama, Romance, TV
27










A stilted and awkward movie. Heaps of overacting.