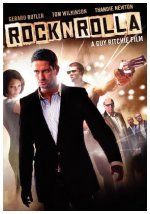 Thandie Newton and Gerard Butler co-star in director Guy Ritchie's crime thriller about crooks from London's underworld who set out to nab millions of dollars left for the taking when a Russian mobster's real estate scam falls apart. Tom Wilkinson plays a powerful crime boss, with Jeremy Piven and rapper Ludacris appearing as record producers who get strong-armed into looking for a drug-addicted rock star.
Action, Comedy, Foreign, Thriller

9










The story lines in the plot were interesting and easy to follow, very well executed. Butler and Newton are great actors and set the mood for this comedic action flick. This is definitely a "Hunk" movie.
27










As with most Guy Ritchie films this one is fairly intricate, sections of action and comedy interspersed with quite a bit of down time. I give him props for tying up a lot of storylines in a nice package