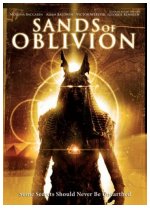 On a dig to find the set of The Ten Commandments (buried in 1923 by director Cecil B. DeMille), archaeologist Alice Carter (Morena Baccarin) and her soon-to-be ex-hubby (Adam Baldwin) unwittingly unearth an authentic ancient artifact, unleashing a wrathful Egyptian spirit. This director's cut version features additional footage that didn't air during Sci-Fi Channel's original broadcast. Dan Castellaneta, Victor Webster and George Kennedy co-star.
Action, Fantasy, Horror, Sci-Fi, TV
27










Perfect example of a movie that's so badly acted it actually becomes fun to watch. Everything about this movie - story, acting, and CGI is solidly B quality, yet somehow I enjoyed it.