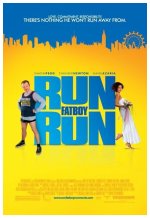 After leaving his pregnant fiancée, Libby (Thandie Newton), at the altar five years ago, a remorseful Dennis (Simon Pegg) tries to repair the damage and win Libby away from her sleazy new boyfriend (Hank Azaria) by training for a marathon. Trouble is, he's hopelessly out of shape. Will losing the pounds and catching his breath be enough to get her back? Dylan Moran co-stars in David Schwimmer's feature directorial debut.
Comedy, Foreign, Romance

10










A fine film, just not as funny as you'd hope walking into it. Though there are bits that make you laugh this movie is more of a romantic comedy. Inspiring and enjoyable, though!