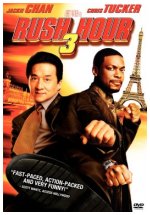 Quick-fisted Det. Lee (Jackie Chan) and loudmouthed Det. Carter (Chris Tucker) -- an admitted odd couple -- team up again and head to Paris to protect a tattooed French woman (Noémie Lenoir) who knows too much about an assassination plot. Along the way, Lee discovers that he grew up with one of the bad guys, criminal mastermind Kenji (Hiroyuki Sanada). Brett Ratner directs this funny actioner co-starring Max von Sydow, Tzi Ma and Vinnie Jones.

Action, Comedy, Martial Arts

10










With so many years between this and the second, the series has changed, lost a lot of its humor and feels slower. However, it's still enjoyable.