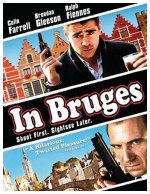 After killing an innocent boy in London, hit men Ray (Colin Farrell, in a Golden Globe–winning role) and Ken (Brendan Gleeson) are ordered to lay low at a bed and breakfast in Bruges, Belgium, until their boss (Ralph Fiennes) phones with further instructions. But when he calls, Ken doesn't like the assignment. Written and directed by Martin McDonagh, this dark comedy earned a BAFTA for Best Original Screenplay.
Action, Comedy, Thriller

10










An entertaining film that tries too hard to be something it isn't. The cast makes the rather flat script shine, and is worth watching for that reason alone. Half tourism promotion for Bruges, half black comedy, it's good if you need to kill an hour.
27










It was just okay until Ralph Fiennes showed up, then the film went into over-the-top humor and really hit its stride.

16










Shifts rapidly between macabre and humorous, but does it artfully, in a way that enhances both. It's also the existentialistiest movie I've ever seen.