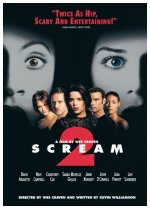 In the two years that have passed since the fateful events in Woodsboro, newswoman Gale Weathers (Courteney Cox) has written a best-seller, which has been turned into a film starring Tori Spelling as Sidney (Neve Campbell). As the movie premiere looms closer, the cycle of mysterious deaths begins again. Dewey Riley (David Arquette) heads straight to Sidney's college in an attempt to protect her from impending doom.

Horror, Spoof
27










Not quite as funny as the original
Scream
, but still solid with some decent action.