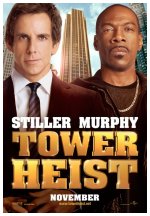 When a group of workers at a ritzy Manhattan condo realize their boss has swindled them out of their pensions, they vow to reap their own justice. With the cooperation of the building manager, the group devises an ingenious plot to recover the funds.
Action, Adventure, Comedy

15










Went in expecting silly but got hilarious. Have seen it twice already. Everybody's character worked and the synergy was excellent, the story was very fun, and I just loved every minute.
8










Probably my favorite comedy of the year. A bit similar to Horrible Bosses.