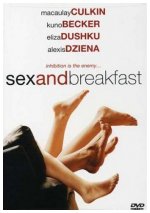 James (Macaulay Culkin) and Heather (Alexis Dziena) visit a therapist to discuss their passionless relationship. During their sessions, both realize they're as much mentally bored as sexually uninterested. That is, until their therapist recommends group sex. A partner swap with Ellis (Kuno Becker) and Renee (Eliza Dushku) leaves all four lovers realizing that a lasting relationship consists of more than just sex and breakfast.
Drama, Indie, Romance
27










Totally unconvincing dialog, with acting so bad it's laughable. Whoever cast Eliza Dushku, Macaulay Culkin, and Kuno Becker in a film supposedly involving romance and emotion should never be allowed to make another movie ever again.