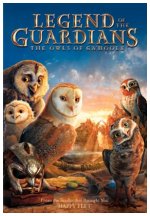 Legend of the Guardians
2010










Kathryn Lasky's popular children's books are the inspiration for this captivating animated feature about Soren, a barn owl kidnapped from his peaceful forest home. His abductors bring him to an orphanage, where he must train to become a soldier. Despite the toil and hardships, Soren makes friends, and together the young birds attempt to escape. Zack Snyder (The Watchmen, 300) directs this epic adventure.
Adventure, Animation, Book, Children
27










Nice animation, but the story is very linear and obvious so it felt like a short film - content wise - rather than a movie. The antics of the comedy owl duo were slightly annoying at first as well.