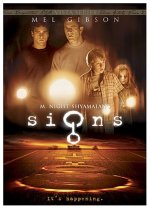 Everything farmer and former priest Graham Hess (Mel Gibson) believes about the world changes when he finds an intricate pattern of circles carved into his fields, mysterious markings that cause a media frenzy and test Hess's faith. Ultimately, he uncovers the circles' origins, which will forever alter his and his family's lives. Joaquin Phoenix also stars in this sci-fi thriller from writer-director M. Night Shyamalan (The Sixth Sense).
Fantasy, Sci-Fi, Thriller
27










One of the slowest and most uninteresting movies I've ever watched. Not only that, but the solution to the alien problem is ludicrous.