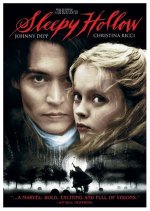 New York detective Ichabod Crane (Johnny Depp) is sent to Sleepy Hollow to investigate a series of mysterious deaths in which the victims are found beheaded. But the locals believe the culprit to be none other than the ghost of the legendary Headless Horseman. Christina Ricci, Miranda Richardson and Michael Gambon co-star in Tim Burton's big-screen adaptation of Washington Irving's timeless tale of murder and intrigue.
Horror, Mystery, Supernatural
27










Not for those who want realism - this film is a liberal take on the fairy tale. The dream sequences keep the film from becoming too dark and dreary, though the long monologue toward the end detracts a bit.