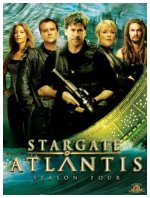 This spin-off of the Sci-Fi Channel's hugely popular "Stargate SG-1" series finds its crew, led by Dr. Elizabeth Weir (Torri Higginson), on a base located in Antarctica, wherein lies the lost civilization of Atlantis. What's more, they've also discovered a parallel world of sorts in a galaxy known as Pegasus, but what lies therein may not offer salvation; instead, it seems to be posing an imminent danger to the inhabitants of Earth.

Action, Adventure, Fantasy, Sci-Fi, TV
27










An excellent sci-fi series, akin to
Farscape
in feel, but with better acting and CGI. This series is far better than the more recent
Stargate: Universe
franchise reboot. However, cast changes make season 4 & 5 seem sullen and fatigued.