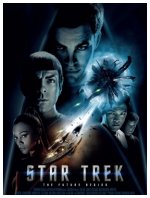 Capt. Kirk (Chris Pine) and his trusted team on the starship USS Enterprise boldly go where no man has gone before in this installment of Gene Roddenberry's sci-fi franchise that follows the early days of the intergalactic adventurers. The crew includes Spock (Zachary Quinto), Chekov (Anton Yelchin), Uhura (Zoe Saldana), Scotty (Simon Pegg) and Sulu (John Cho). Eric Bana co-stars, and Leonard Nimoy appears as an older version of Spock.
Action, Adventure, Fantasy, Sci-Fi
Click here to view 1 long reviews of this item

16










Pretty darn enjoyable, even though I'm not a big fan of TOS. Uhura and young Spock were especially awesome.