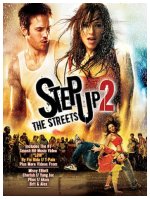 Step Up 2: The Streets
2008










After being branded "the new kid" at an elite performing-arts high school, a tough street dancer (Briana Evigan) bands together with other outcasts -- including the class prodigy (Robert Hoffman) -- to compete in an underground dance battle. Navigating between two diverse worlds, she grapples with frustration and anguish, a pair of powerful emotions that are skillfully woven into routines by choreographers Jamal Sims, Hi-Hat and Dave Scott.

Drama, Romance

9










Thought it was better then the first movie. Better dance moves and sound track.
27










The story was just okay, and the acting was fine - but for a dance movie it was all pretty uninspiring until the rain sequence, which was decent.