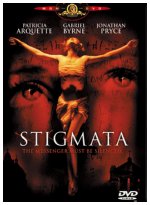 Frankie Paige (Patricia Arquette) doesn't believe in God, the Bible or religious phenomena … until her hands and feet start to bleed, showing signs of the stigmata. Alerted to Frankie's paranormal experience, the Vatican sends Rev. Andrew Kiernan (Gabriel Byrne) to investigate. Kiernan soon confronts his own crisis of faith: Should he help Frankie avoid an untimely death, or save the church from disaster?
Horror, Supernatural, Thriller
27










An
excellent
cast and a reasonably intriguing story. Not any deeper than
The Da Vinci Code
or a ghost story, but engaging and well produced.