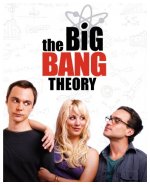 Sheldon (Jim Parsons) and Leonard (Johnny Galecki) know quantum physics and the Klingon language. They don't, however, have a clue about women. That's too bad, because attractive, newly single Penny (Kaley Cuoco) just moved into the building, and she could use some companionship. If these two nerds are ever going to score with the ladies, Penny will need to give them a crash course in life in this sitcom from the creator of "Two and a Half Men."
Comedy, TV

9










This is the most pretentious piece of shit I've ever seen. My parents love it because it uses big words they don't understand. That about sums up the target audience. People who think big words are funny. Sheldon is a wanker and the acting hurts.

6










Must. Watch. Absolutely hilarious! If you bought the DVD, it is absolutely worth every penny! (No pun intended.)

10










I actually really enjoy this show sometimes because the Sheldon character is almostly exactly like someone I went to college with, and easily the best part of the show. Other than that, pretty predictable humor.
27










Has its moments, but tries a little too hard to be funny. Probably also less amusing if you don't have a decent amount of 'geek' knowledge.