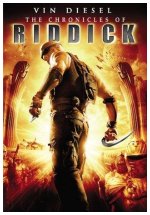 The Chronicles of Riddick
2004










Five years after the events in sci-fi film Pitch Black, escaped convict Riddick (Vin Diesel) finds himself caught in the middle of a galactic war waged by Lord Marshal (Colm Feore), the leader of a sect called the Necromongers. Riddick is charged with stopping the Necromonger army from its evil grip, meanwhile rescuing an old friend from a prison planet and evading capture by bounty hunters. Dame Judi Dench and Thandie Newton co-star.

Action, Adventure, Fantasy, Sci-Fi, Thriller
27










A competent sequel to
Pitch Black
, this movie raises the energy level from the last film. They threw in a lot of Necromonger stuff and that half of the movie was average at best. The Riddick scenes were excellent though, and the cast is great.