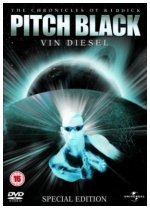 After crash-landing on a seemingly lifeless planet, pilot Carolyn Fry (Radha Mitchell) and the remaining passengers -- including murderer Riddick (Vin Diesel) and policeman William J. Johns (Cole Hauser) -- encounter an army of creatures whose only weakness is light. As night approaches and the aliens emerge, the passengers must rely on Riddick's powerful night vision to lead them through the darkness in director David N. Twohy's sci-fi thriller.

Fantasy, Horror, Sci-Fi
27










Reminds me of
The Flight of the Phoenix
, with more excitement and a sci-fi twist. Vin Diesel definitely makes this movie, but Radha Mitchell is pretty good as well. The sequel
The Chronicles of Riddick
is more exciting, but this film doesn't disappoint either.