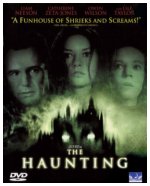 In director Jan De Bont's remake of the original spine-tingling haunted house adventure, Dr. David Marrow (Liam Neeson) invites Nell Vance (Lili Taylor), Theo (Catherine Zeta-Jones) and Luke Sanderson (Owen Wilson) to the famous Hill House for a study in sleep disorders. The unfortunate guests discover that Marrow is far more interested in the sinister mansion itself -- and, soon, they see the true nature of its horror.
Horror, Supernatural
27










Owen Wilson is his goofy, charming self; though the rest of the cast is good they don't add a much spirit to the film. This is a very slow thriller, not much happens during the first three quarters of the movie.
House on Haunted Hill
is a better choice.