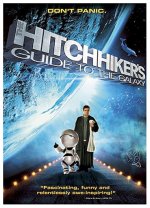 The Hitchhiker's Guide to the Galaxy
2005










In this adventure based on the best-selling novel of the same name, Arthur Dent's house is about to be razed when he discovers that his best friend is an alien and that planet Earth is about to be destroyed to make way for a hyperspace bypass. Now, it seems that Arthur's only chance for survival is to hitch a ride on a passing spacecraft. Martin Freeman, Mos Def, Zooey Deschanel, Bill Nighy and Sam Rockwell co-star.
Adventure, Comedy, Sci-Fi, Spoof
27










I'm sure the book was probably better (never read it) but enough of the wacky imagination was infused into the movie to create a clever and mildly entertaining romp through the universe. The cast is competent and amusing as well

16










I liked it, but not a whole lot. Honestly, Adams is great, but we've heard this story a trillion times; I kind of wish they had strayed *more* from the source.