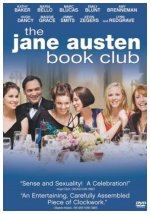 The Jane Austen Book Club
2007










Six book club members find their lives resemble a modern-day version of Jane Austen's novels in this drama. For starters, Sylvia's (Amy Brenneman) husband of 20-plus years has walked out, Bernadette (Kathy Baker) seeks Mr. Right, and married Prudie (Emily Blunt) dreams of other men. Then there's lonely dog-breeder Jocelyn (Maria Bello); Allegra (Maggie Grace), who has issues with her girlfriend; and Grigg (Hugh Dancy), the sole male in the club.
Book, Drama, Romance
27










A feel good story with a decent cast and plenty of playful banter. If you like Jane Austen books that probably wouldn't hurt either, since the characters mention the books and their plot/characters quite often.