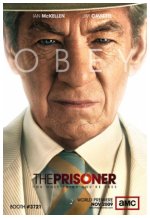 Ian McKellen and James Caviezel star in this remake of the British cult classic about Number Six, a government agent exiled to a mysterious town called the Village that's run by an enigmatic leader known as Number Two. With no memory of his former life or why he's a captive in this strange prison, Number Six (Caviezel) begins the daring task of plotting his escape. Jamie Campbell Bower and Lennie James co-star in this gripping miniseries.
Drama, Fantasy, Sci-Fi, TV
27










James Caviezel is a disappointingly monotone actor. At first the plot seemed interesting - somewhat like
Lost
when that series began. Both suffer the same fate though, degrading into a nonsensical mess. Ian McKellen is the only good part.