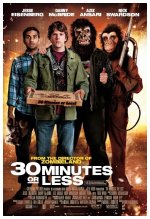 Two small-town criminals planning a big-time bank heist wind up abducting pizza delivery driver Nick (Jesse Eisenberg) and forcing him to commit the robbery -- giving him a strict time limit to boot. To pull off the caper, Nick enlists the aid of a former buddy (Aziz Ansari). With the law, the crooks and the clock all breathing down their necks, the duo also try to patch up their troubled friendship in this frenetic action comedy.

22










This movie barely gets you a laugh, I think that Jesse Eisenberg didn't provide any fun to his character... I don't recommend seeing this movie, personally a waste of time

14










'30 Minutes or Less' is a comedy that is devoid of laughs. Jesse Eisenberg does the best he can do with the overly desperate script but his charm is foiled at every turn by Danny McBride, who may very well be the worst comedic actor going today.