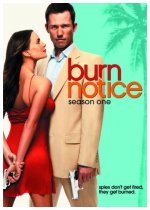 When secret agent Michael Westen (Jeffrey Donovan) inexplicably gets his walking papers, he makes his way home to Miami and turns his talents to private detective work, all the while trying to get to the bottom of his mysterious fall from grace. Gabrielle Anwar and Bruce Campbell co-star in this breezy espionage series, in which multiple Emmy and Golden Globe-winner Sharon Gless plays Westen's carping mother.
Action, Adventure, Drama, TV

10










I didn't think I'd enjoy this show, but turns out I was completely wrong. I was looking for something to tide me over after White Collar, and I discovered I love this more. If you're a fan of con artists / sting shows, this is up your alley.
27










The cast is slightly awkward, but the show is entertaining enough to still get a decent rating.