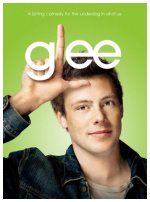 High school Spanish teacher Will Schuester (Matthew Morrison) agrees to take over the school's glee club, whose misfit members are eager to reverse the group's reputation as the worst in the country. Featuring several musical numbers in each episode, the toe-tapping series also stars Chris Colfer as drama queen soprano Kurt, Amber Riley as diva Mercedes, Cory Monteith as hunky quarterback Finn and Lea Michele as talented perfectionist Rachel. Vol. 2 includes the second half of Season 1.
Comedy, Drama, TV
Related Titles
Random Titles

4










Ok...I don't know what the other reviews are talking about! My whole fam loves Glee! Maybe it's coming from a small town and knowing people like these crazy characters, but I adore this show. And the singing and dancing is like the cherry on top!

5










a show that proves that society has gone to the poopsters. only tweaked out female teenagers seem to like this show. for whatever reason. i found it annoying and bore-filled.
27










Thought this was supposed to be a comedy - maybe I was wrong since it isn't funny. Has musical numbers too, which I hate. Additionally they tend to lipsync all the music badly (and obviously) instead of singing it legitimately.