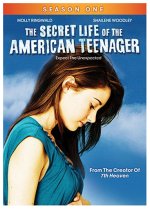 The Secret Life of the American Teenager
2008










Amy Juergens (Shailene Woodley) doesn't seem like the kind of girl who'd be facing an unplanned pregnancy. But at 15, that's exactly what she is -- and her all-consuming secret is going to be kind of hard to hide from her parents (Molly Ringwald and Mark Derwin). The baby's father, Ricky (Daren Kagasoff), has problems of his own: namely that he can't decide between Amy, his current girlfriend and a virginal cheerleader. Season 1 includes episodes from the first half of what aired as Season 1.
Children, Drama, TV

6










It's an alright show... although oddly addicting. You both enjoy and hate the characters. I would never say its the best show on television, but I do enjoy Amy & Ricky's story more than anyone else on the show. Daren is definitely a great new actor.

7










i love this show, its got so much drama but its so amazing as well, it teaches you so much and is based on true life.

4










A train-wreck of a television show about a town in which every person is consumed by sex. Terrible...but fabulous. Awesomely bad.