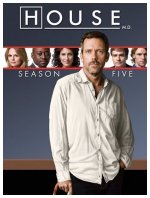 Fox's hit hospital drama stars Golden Globe winner Hugh Laurie as the ornery Dr. Gregory House, a brilliant diagnostician who demonstrates his palpable loathing for his patients with a brutal bedside manner. Along with his handpicked team of specialists -- including neurologist Eric Foreman (Omar Epps), immunologist Allison Cameron (Jennifer Morrison) and oncologist James Wilson (Robert Sean Leonard) -- House looks into obscure medical disorders.
Drama, TV

7










best show ever... i watch this every week night at 1pm:) such a amazing show

8










Forever straying into the very bizarre, but entertaining

11










House was cool for the first two seasons, then it just became predictable.

11










Probably the best drama/comedy series that is currently airing. That says far more about the quality of TV right now than it does for the show, but it doesn't take much away from the show itself. It fell off a bit in season 5.
27










Excellent show, except for the season where House goes crazy.