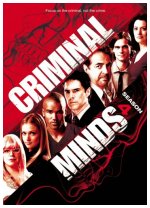 Mandy Patinkin plays Jason Gideon, the brilliant leader of an elite team of FBI profilers, in this police procedural drama that focuses on the criminal rather than the crime. Still recovering from a nervous breakdown inspired by a nasty previous case, Gideon gets help from team members Aaron Hotchner (Thomas Gibson); sex offense specialist Elle Greenaway (Lola Glaudini); socially inept but brainy Spencer Reid (Matthew Gray Gubler) and more.
Drama, Mystery, TV

10










Definitely one of the better crime shows on, not as light and not as much humor as a lot of the others. Also more suspenseful than most.

7










love this show, so entertaining and such mystery.

8










New obsession <2 The quotes are a nice signature, practically idolize the boy-genius, Dr. Reid. Doesn't over-focus on one character, tends toward the psychological side without forgetting to provide thrills. Favorite <2
27










Fairly solid crime show - nothing wrong but nothing to make it extraordinary either.