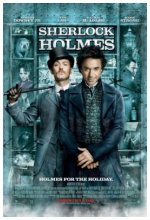 Robert Downey Jr., in a Golden Globe-winning role, stars as the legendary London sleuth Sherlock Holmes, joined by Jude Law as Dr. Watson, in this Guy Ritchie-helmed reinvention of Sir Arthur Conan Doyle's detective series. Based on a comic book by producer Lionel Wigram, the story follows Holmes and Watson as they face off against the villainous Blackwood (Mark Strong). Rachel McAdams co-stars as sharp beauty Irene Adler.
Action, Adventure, Comedy, Thriller

11










Good. Genuinely funny, something lacking in many comedy movies recently. Downey Jr. is excellent.

15










Downey's character is a Sherlock Holmes/Bruce Lee hybrid, only mildly related to the Conan Doyle creation. Camaraderie between Downey and Law is fun, but McAdams comes off a bit flat. Although entertaining, could have been much better.
27










An okay movie, though I wish they would have explained more throughout the movie rather than the long monologue at the end. The supernatural angle was also slightly annoying since it was quite obvious from the beginning that it wasn't supernatural