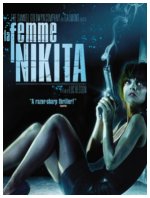 Internationally acclaimed director Luc Besson delivers the action-packed story of Nikita (Anne Parillaud), a ruthless street junkie whose killer instincts could make her the perfect weapon. Recruited against her will into a secret government organization, Nikita is broken and transformed into a sexy, sophisticated "lethal weapon." Later remade in the United States as Point of No Return, starring Bridget Fonda.
Action, Adventure, Foreign
27










Remade as
Point of No Return
for American audiences, this classic is far better. The American remake lacks the finesse of the original, and has some plot oddities that don't make sense if you haven't seen the original.