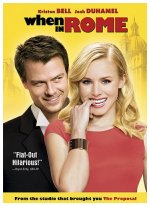 After fishing out coins from a water fountain in Italy, cynical New Yorker Beth Harper (Kristen Bell) finds herself being wooed by several ardent suitors. As she deals with the attention, Beth tries to figure out whether a charming reporter (Josh Duhamel) really loves her. Danny DeVito, Anjelica Huston, Jon Heder, Dax Shepard and Will Arnett also star in this romantic comedy. Mark Steven Johnson directs.
Comedy, Romance

15










Mostly silly, with a few funny bits thrown in. The script had the same lack of depth as a musical, but without the musical numbers. Views of Rome in the beginning almost make the whole thing worth it.
27










Kristen Bell did a pretty good job with this role - the beginning was hilarious, but it did get weak in the middle. The men chasing her tended to be more silly than funny, and the ending was obvious. Better than many recent comedies, but not great.