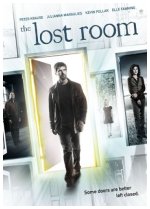 After Detective Joe Miller (Peter Krause) finds a key that opens a mysterious motel room, he discovers it's a portal to an alternate universe with contents of immeasurable power. When his young daughter Anna (Elle Fanning) disappears inside, he desperately tries to save her. But Miller must contend with a host of bizarre characters who also want access to the room. Julianna Margulies, Kevin Pollak and Margaret Cho co-star in this eerie miniseries.
Fantasy, Sci-Fi, TV, Thriller
27










A pretty decent cast and interesting story. The ending wasn't thrilling, but it was acceptable. I think Robert Redford (circa
Spy Game
) would have been fantastic as the lead character for this mini-series.