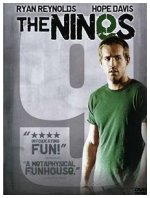 Ryan Reynolds, Melissa McCarthy and Hope Davis appear in multiple roles in writer-director John August's independent thriller, which combines three intertwining stories that creatively converge in unexpected ways. A popular TV actor is under house arrest in "The Prisoner"; a TV producer struggles to launch a new series in "Reality Television"; and a video-game designer seeks help for his stranded family in "Knowing."
Drama, Indie, Thriller
27










The religious overtones might be off-putting to some people, and it isn't super exciting. It does manage to be somewhat intriguing though, the main flaw being how abruptly each of the three stories start - rather than being woven together.